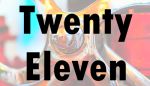 When I was playing with the new Twenty Eleven Theme Extensions plugin I noticed that the header of the Twenty Eleven theme looks to see if there is a featured image associated with the individual post or page being displayed. If it finds one, and it is wide enough, it will automatically place that image in the header.
That's a very nice feature of Twenty Eleven, but it's a little on the quirky side, since:
The image has to be at least as wide as the default header image width–which is typically 1,000 pixels unless you have specifically changed it–otherwise the default header shows up, and
The original set of header images that come with the theme are not in the site's Media Library, nor can you select them as a feature image by URL, so you will have to copy them to your Media Library before you can use them.
But as long as you understand the limitations, it's a nice way of varying your header image according to the page or post you're displaying, and here's how you do it:
Edit the post or page you want to set the header image for.
At the bottom of the right-hand column on the edit page, you will see the box titled Featured Image. Click the Set featured image link.
Now you can chose to upload a new image, or select one previously uploaded into your blog's Image Library. (Note: you can't select a feature image by URL.)
Selected the image you want from the list in your Media Library, and click the Show link next to it.
Now, under Size make sure that the Full Size of the image is at least 1,000 pixels wide. If it isn't, the image will not show up in the header.
If the image is wide enough, all you need to do now is click the Use as featured image link, close the dialog, save the post, and you have a new header image for your post.
One additional thing to remember is that while you cannot crop an image while selecting a feature image like you can when uploading a new header image, you can always go to the Media >> Library admin page and Edit the image you want to use. The built-in WordPress image editor allows you to crop the image to your requirements, and if the image isn't wide enough, you can scale up the size of the image until it's at least 1,000 pixels wide. (The results might be a little fuzzy if the original image is a small one.)