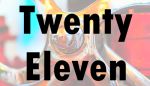 As promised a new version of the Theme Extensions has been unleashed on the unwitting public, with a major new feature that gives you twelve new individual color settings (in addition to the color of the link text) on the Theme Options settings page.
The new color settings make it easy to make major color-related tweaks to Twenty Eleven, changing the whole look of the page, if that's what you want.
I am aware, however, that I may have opened a can of worms by only providing color settings for a limited set of colors. No doubt people will soon be asking for this color, or that color to be added (comment colors especially).
But there are about 150 individual color settings in Twenty Eleven (yes, I counted them), and just imagine the tedium of scrolling through 150 settings one by one changing them to just the right shade of green, or purple, or something. So it would be impossible to capture them all on a single settings page. You can always add your own too, just take a look at the documentation in the Theme Extension part of this web site and you will find out how.
I am willing to consider adding more color schemes (like the existing Light and Dark color schemes you can already select from), but I can't do the work of designing the scheme myself, since I don't have the artistic skills necessary. However, if anyone has a color scheme they have put together, I will be more than happy to look at adding it to the plugin (with full credit, of course). It would have to be your own work (or have the author's explicit permission) and be distributable under the GPL license with the plugin.