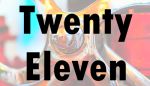 Well, I'm back, as a certain hobbit once said. Apologies to anyone who has been asking questions about Embedder while I've been away. I have no real excuse other than I just lost interest in the whole business of writing code for a while, and when I do that I tend to ignore everything completely.
Anyway, I've just posted a brand new plugin at WordPress.org, called Twenty Eleven Theme Extensions. (I have this overwhelming urge to type "Twenty Twelve" every time I type the name for some reason, probably because all the nonsense about the supposed end of the world got it stuck in my head!) It's not as ambitious as Embedder, but hopefully some people will find it useful.
It all came about when I was fiddling with a new installation of WordPress for a friend, and I saw that others had the same reaction as I did to the missing sidebar on some pages. I understand the reasoning behind doing that, but it can be a little jarring at first, and in some cases I'm sure it would make more sense to keep the sidebars there.
I'm not sure how yet whether I will be updating this plugin much. I guess it depends on whether there is enough demand for new options that will help make the theme more usable and flexible. If you have any ideas, feel free to let me know — preferably in the Support Forum for the plugin.